She came across Cyborg Future thanks to her husband. It took her some time before she decided to get her first functional prosthesis. Prior to that, Anna had only ever used cosmetic prostheses:


Before, there were only cosmetic prostheses. I got my first one when I was 5, and wore it until I was 8. During school, I often left it on the desk, one of my teachers even almost fainted once 😂 Since I was a child, I had no need to wear it all the time, and it was quite uncomfortable.
I got my second prosthesis when I was 17. The only reason I got it was so that my gloved hands would look nice at the senior prom. It was so hideous that I can't even put it into words! Once they handed it to me, I was absolutely appalled: I wondered how to wear it, and what I could really do with it. I couldn't even find anything to say or comment at that moment. So I took it as it was; however, another problem was that the technicians at the prosthetics center had measured my left hand and had made the prosthesis in the same size, even though the right hand is a lot smaller and there wasn't anything to attach the prosthesis. They told me, 'Come up with something yourself.' Of course I came up with something, but I never wore this prosthesis again other than at the senior prom and my wedding."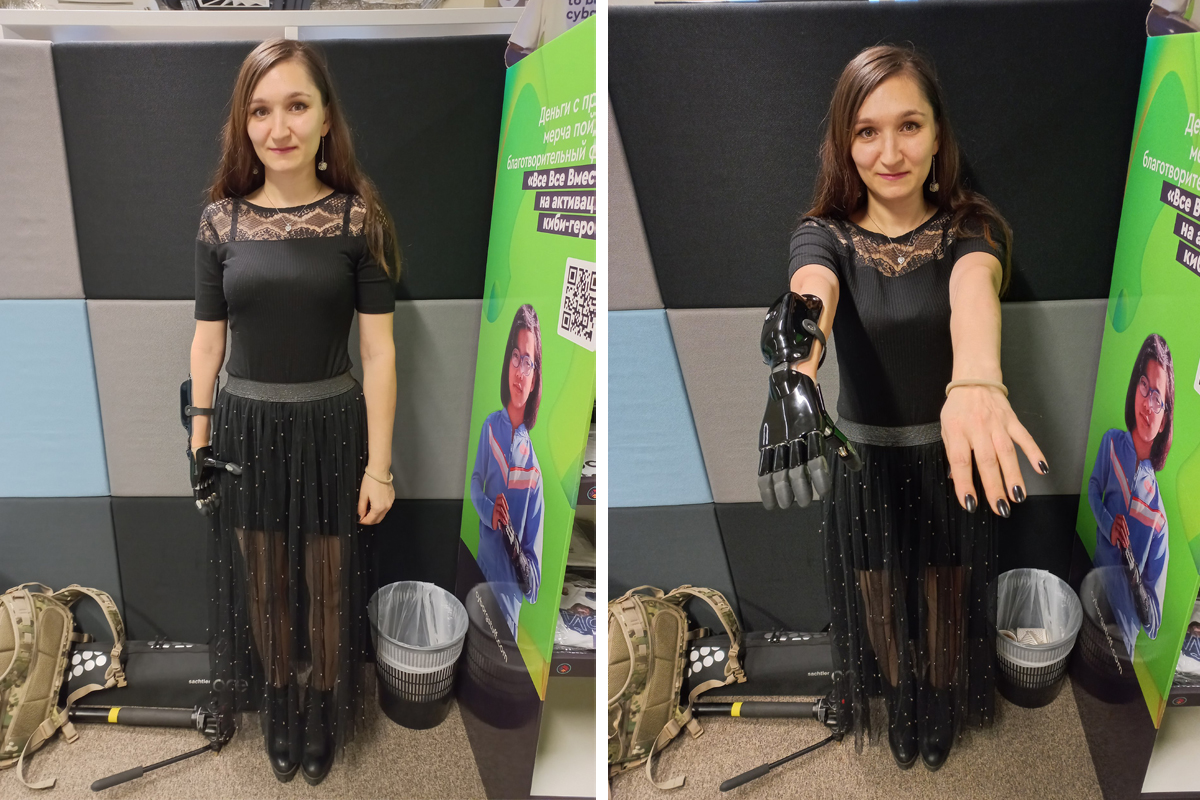 Wearing a prosthesis for the first time is always such an exciting and nerve-racking moment. Just imagine: for the very first time in your life you can grab a bottle of water with a hand that you didn't have before!


Anna was already nervous even when it came to choosing the design:

I probably chose a black prosthesis simply because it's practical and I like the color. And I felt so anxious that I couldn't even think of what kind of design I would have wanted for my prosthesis in the first place.

When the moment came for her to try on her own prosthetic arm for the first time, Anna's anxiety would not pass away either, although her husband was there to support her:

I was pretty nervous when I received the prosthesis, and I don't even know why, but my husband comforted me. This was an indescribable feeling, it was as if my arm had appeared!

Can you think of anyone else who had looked forward to receiving their bionic prosthesis more than our story's heroine? Anna recounts:

My children must have been more curious about the prosthesis than I was. They were constantly asking me when I was going to get it, what it would look like and what it would be able to do. When I came home, all they asked was why it was black. 'Our Mummy is a terminator!', they said

Anna is currently getting used to her cyber-gadget and mastering its functions:

When I am home, I try to wear it whenever possible, and also when I go out shopping. I am getting used to it little by little. I use my prosthesis when cooking at home, and also when I am working on the renovation, although with gloves on. Everything has been working out.
What if cyber-gadgets had been available in your childhood?

When asked, "What if, when you were a child, there had been CYBI prostheses as we have now for children, ones that are bright, colorful, filled with their favorite cartoon characters. Do you think having and using one would have somehow changed anything in your life or self-perception?" Anna replied,

I guess it would have definitely been easier, especially on an emotional level, because as a child I was bullied and called a lot of names, up until almost the seventh grade. But then I started hiding my hand, and nobody but my classmates knew about it, which meant that no one called me names anymore.
Today's kids can change these experiences, if not entirely avoid them. Because cyber-gadgets are now available to everyone, regardless of a family's financial situation. Our main task is to reach those for whom this information is relevant. Please share the stories of these cyber-heroes, both children and adults!